---



September 15, 2000 at The GIG West Los Angeles


KFHG with special guest King Kukulailai! What a show! What a lovely bunch of coconuts! Got audio?


---



February 14, 2000 KFHG in "Love is a Drag"


Kung Fu Hula Girl in dresses! Guest star 'Juanita' Nyboer with grass skirt and coconut bra! Not just another night for the boys in KFHG…This special night was "Love is a Drag" hosted by mistress of ceremony Brandi Warhol at The Gig Hollywood, and our favorite band was out there giving (and baring) their all. 'Sissy' was behind the kit wearing an absolutely divine number with…HEY, what about the music?! The set began with "Manitoba," the new Canadian rocker that was premiered at the last show. There were plenty of appropriate/ironic cover tunes (including a new redo) as well as the debut of a recent tune from Chuck…er, 'Charlene.' Talk about dark…let's just say that it had to do with unauthorized disposal in our nation's waterways. That dog, 'Q-Bitch' managed to keep his golden locks on for about half the show, and 'Juanita' provided plenty of backing percussion and random madness…I don't know if you can read hula, but from what I got--WOW. If you weren't there, you must see the video…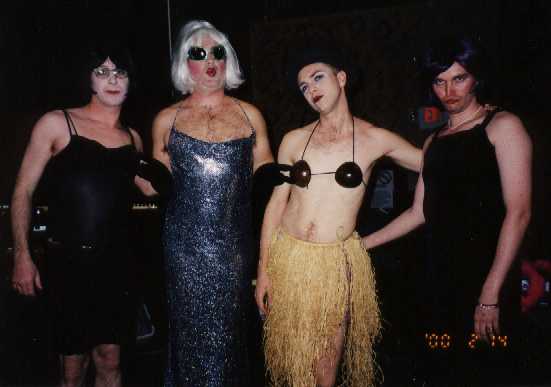 ---
The show last night (8/21/99) at the Gig was just super. It is rumored, however, that the show had a decidedly dark cast-a pall you might even say- about it. Whatever the case, it did feature two new tunes: Ken & Laura's, "Subourbon DK," and Chuckie Cheese's inspirational anthem about the eradication of certain societal undesirables. Most shocking! Those folks over at the WLA Gig have the nerve to drag the KFHG off the stag kicking and screaming before they had a chance to finish there already too brief set. Shame, shame, shame.


---



You are there...May 12, 1999 at THE JOINT, West Los Angeles


It's the happy Birthday Chuck Show
GREAT DECEIVER...oh, that kinetic King Crimson classic
TECHNO TROUSERS...rippin'
DR. BALLS...ah carefree school days
NO PAIN...Chuck jammmmin'
PYRAMID SCHEME...almost too much for all of us involved...a great dance tune
SUICIDE BITCH
announcements "not about Colin" (...?) include tribute to the birthday boy "he's finally grown up"
NiK-E-TOWN..."Pamela's implants are at Planet Hollywood"
HAPPY SPA..."blew my load like a Colt 45"
SCIENCE FICTION THEME...with that still-evolving great ending...is that Tony Iommi on guitar..."George Lucas has a shitload of money"
ROADIE
Bowie's MOONAGE DAYDREAM
KUNG FU HULA GIRL


---