PART TWO
---
April 25, 1999 at THE GIG (HOLLYWOOD)
VENUE DEBUT


For this, their first show at this rockin' establishment in the heart of the Melrose strip, it's Kung Fu Hula Girl Plus...that's Kung Fu Hula Girl plus the exotic and all-new percussives of the mysterious...estnyboer...
PYRAMID SCHEME
BLACK MARKET AIRBAGS
TECHNO TROUSERS
ROADIE
MORNING PAPERS...ah, The Purple One
band intros include "Dr. Chuckie Cheese" and...estnyboer...
SUICIDE BITCH
SPORTS MEDLEY...treated to the Borg version..."what will he sell us now...Chicken McNuggets..."
NiK-E-TOWN..."bring on Tommy Lee"
Remember, we have cassettes "if you want to live with it"
KUNG FU HULA GIRL
NO PAIN...encore!

Great gig! Love the experimentation, babe. And a primo sound system. Ciao.
---
April 2, 1999 at 14 BELOW, West Los Angeles


BLACK MARKET AIRBAGS...debut of KFHG's performance of this Bryant's Traction classic...and did I already hear...(oh, no)...?
TECHNO TROUSERS...back to Bryant's...with an extra Chuck jam
DR. BALLS
PYRAMID SCHEME...followed by a break for a "minor adjustment to the navigational system"
NO PAIN...with Chuck starting "like clockwork"...followed by the kick drum gradually losing its moorings...bad bass drum, you deserve to be kicked over...and pierced with a drum stick?!...I'm sure that C.C. was just as suprised as all of us
THEME FROM "SCIENCE FICTION"...all Kenny can do is laugh at trying those changes with no kick drum cues...this instro is followed by a break to get a new bass drum (thanks, guys...forgot band's name)..."Colin broke his bass drum, Chuck blew up his guitar...the cardinals of the demise"--K-Dog
NIKETOWN...with Chuck trying some "new" guitar parts..."if I could be like Spike"
VINNIE'S PERINIUM...featuring D'Joe on trumpet
WADE...also with Joe St. John...with that new hard-ass bridge/outro
KUNG FU HULA GIRL...encore...sort of...

Let's hope that these things really only do come in threes
---
March 11, 1999 at THE JOINT, West Los Angeles


NIKETOWN
PYRAMID SCHEME
SUICIDE BITCH...what the hell is that noise?
NO PAIN
ROADIE...followed by a short break to take care of the unannounced audio "science experiment." Intros by Ken included references to "supersonic extravaganza" Chuck and "lucky charm" C.C. ...Chris Anderson yelled the suggestion that someone "sing really high again" ...seems that a lot of things were being done really high...and Happy 30th Birthday to Julian "JuJu Baby" Jenkins
SCIENCE FICTION THEME...debut performance of the new insrumental tune
SPORTS MEDLEY..."What will he sell us now...minoxydil"
KUNG FU HULA GIRL
SATELLITE OF LOVE...encore

K-Dog gave us all "thanks for indulging the process." And we hope that Spinal Tap guitarist Nigel Tufnel got his rig returned to him in one piece...was that a "niner" heard over the speakers or just a low flying military craft?
---
February 9, 1999 at THE GIG, West Los Angeles


Broken string...broken heart...if you were there, you know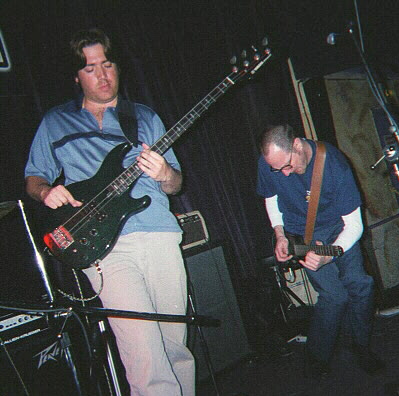 A notable highlight...SATELLITE OF LOVE (L. Reed)...done as proto punk tune!
They say you can't do a show without a few strings attached...only this time, it wasn't the correct number. (see photo)
---
January 21, 1999 at THE JOINT, West Los Angeles


DR. BALLS
TECHNO TROUSERS...with broken stick from C.C.
SPORTS MEDLEY (BORG VERSION)..."and headband"..."B'Jorn Borg"...throwing in the melody from disco's "He's the Greatest Dancer"..."what will he sell us now...Mentadent"
HAPPY SPA
MOONAGE DAYDREAM (Bowie)...followed by the introductions of "Doctor Chuckie Cheese," "Lucky C.C." and "K-Dog"
NIKETOWN..."bring on Spike Lee"
NO PAIN...with a nice and loud knockout "10" by C.C.
ROADIE
PYRAMID SCHEME
SUIDIDE BITCH
KUNG FU HULA GIRL

...gotta get a grip on the stick, C.C.
---